MA Yuan
Works of MA Yuan
2008.03.08 - 30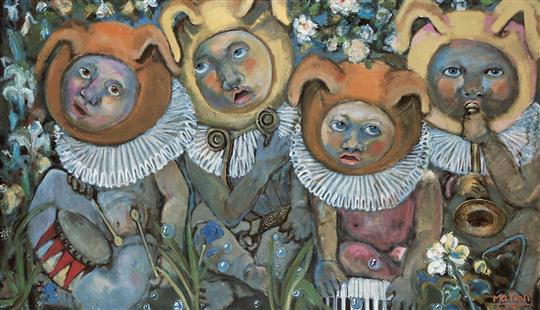 There are a lot of marvelous things in life, such as fairness, kindness,, passion, and sincerity among many others……. Nowadays, these virtues are either fading or ignored with our grown-ups. Yet, regardless, they still stay in fairy tales, and are shared and treasured among the kids.
In all lovely fairy tales, the truth of life and the fundamentals of the soul are described in very simple words. It makes everything come back to its very origin and the world will no longer be complicated.

Starting with the first picture books we read, fairy tales never leave our side.
This unguarded naive kindness, this blind innocent romance and this deep but simple philosophy. All these make the reader involuntarily pure. Reading fairy tales…is a marvelous affair.
Fairy tales are beautiful… touching. With them, life is happy.

The works of Ma Yuan bring me the same happiness as reading fairy tales. I really love them with all my heart. In those works, I can see her pursuit of pureness, her persistence of truth. I can feel her pure and innocent determination. I think, whether it is an inexperienced naivety or a coming back from an ordinary life to the artless childhood, such pure and innocent determination is always a happy determination.
Perhaps, in her works, there is something fairy tale-like that I am aspiring after.

Today, it is the 5th day in the year of the rat. The midnight sky of Beijing, icy cold and crystal clear, is full of firework bloom. It is real beauty, the beautiful reality. It will be a brand new year. Let our eyes be pure, our hearts be clear. Believe in fairy tales. Paradise over there...