Soap Opera
Works of Shih Yung Chun
2012.10.20 - 11.28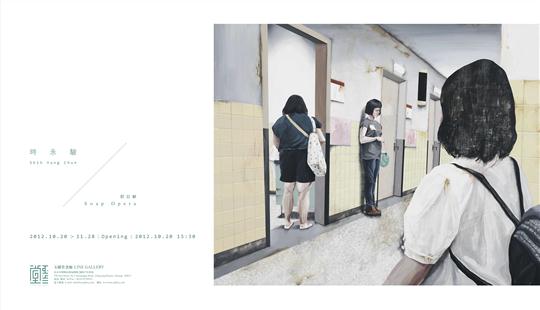 Shih Yung Chun, was born in 1978 in Taipei, is going to have his personal exhibition in 798 Line Gallery in Beijing from October 20 to November 28 this year. He has named his own exhibition as "Soap Opera" and will display his 62 pieces of works to China. This exhibition not only means a lot to him, but is also a great opportunity for art lovers.

Although Shih's paintings focus on daily life's materials, he has turned the dull to the full from thousands of pictures. He always purposely makes the changes between the feelings of distant and strange, which has made people want to dig out the truth and at the same time, feeling surprised. However, truths are not in Shih's paintings. He has named his works as "soap opera" as meaning that even our everyday life can be untrue and virtual. As being a talented painting artist, Shi has faced a repositioning moment after 40 years of Conceptual Art lead. Shih's art, on the other hand, is very attractive and unique. He is a person who is good at telling stories. Every of his design work seems implying us that we are living in a "Maze". Our life is just like a maze with dramatic process and hard to tell true or untrue. There is no one can get it clear. A scare of seeking for the truth while living in an untrue world – this may be Shih's motivation and also the reason why he is so trapped down in this creation.